Search Engine Marketing
4 Colors Design offers platform advertising solutions to businesses focused on improving their online reach and targeting.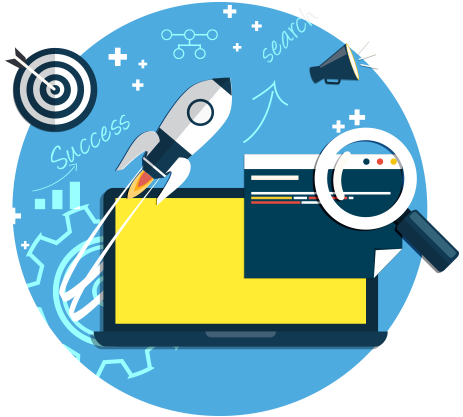 4 Colors Design offers platform advertising solutions to businesses focused on improving their online reach and targeting. This is achieved through the building and ongoing optimization of accounts by experienced online marketers. We not only offer PPC Management but can also assist with: search engine optimisation (SEO) and social media marketing (SMM)
Pay Per Click Management
The maincore focus of 4 Colors Design is Pay Per Click Advertising using platforms such as Google AdWords. We have no lock-in contracts for our PPC Management services and are therefore continuously striving to achieve the lowest possible cost per acquisition (CPA) for your company.
Pay Per Click marketing (PPC Marketing) is often known as the paid version of standard SEO campaigns through which advertisers can attract instant traffic and attain  top positions in leading search engine results. It is the most hassle-free way of advertising and most noticeable way of reaching the target audience.
Apart from being an instant way of reaching out to your target audience, PPC campaign management gives the freedom to strategically target the eyeballs. Through PPC Campaign management, one can choose the demographic and geographic characteristics of the target audiences and accordingly set a time and budget for the campaign. Through paid Ads, search engines have made it easier for marketers to implement the most talked about Marketing strategies like segmenting, targeting and positioning for their businesses.
With Google Adwords, running a pay per click campaign management has become simple enough for anyone with a basic knowledge to manage a PPC account and assist anyone in getting a large number of clicks in a few hours. The only difference between a vendor next door and a professionally run PPC Service provider is the objective of running a campaign. PPC experts at 4 Colors Design (Freelance PPC Advertising) measure the performance of a campaign through conversion rate rather than Click through rate, which is calculated by dividing total number of clicks by the total number of impressions.
Being an expert SEO company with expertise in web designing and website management, we know the importance of attractive and relevant landing pages. All our PPC Campaign Management Service Packages include free of cost consultancy for designing effective and optimized landing pages.
All our Pay Per Click management service packages are completely transparent. You will retain the complete ownership of your account at all times and will continue to do so even if you decide to discontinue using our services.
Google Advertising
The most popular form of PPC advertising is Google AdWords. Many companies are choosing professional AdWords Management due to the increasing sophistication of the AdWords platform. If you would like your Google Advertising managed by one of Thai's most capable teams please contact us.